Posted by Kathy Sadowski on on Jan 3rd 2022
Hemp seed oil is cold pressed from the ripened seeds of the Cannabis sativa plant. It is rich in omega-3 and omega-6 fatty acids, vitamin E, carotene, and other valuable nutrients. The oil consists of 75% polyunsaturated fats. It is even a good source of chlorophyll, noticeable in the oil's subtle green hue.
This nutrient rich carrier oil has many benefits, but a short shelf life. Thus, internally stabilized hemp seed oil can be beneficial in that it adds a natural rosemary antioxidant to extend shelf life and reduce the need for adding antioxidants and antimicrobials to product formations.
Does hemp seed oil contain THC?
THC (tetrahydrocannabinol) is the psychoactive component found in some (not all) Cannabis sativa plants. Hemp seed oil is derived from hemp plants that have almost no THC.
Plus, THC is found in the flowers and leaves of some Cannabis plants, and only trace amounts can be found in the seeds.
What are some topical uses of hemp seed oil?
Hemp seed oil is beneficial to the hair and skin with its protective and nourishing effects. Hemp seed oil is suitable for most skin and hair types, and it does not clog the pores. It can help balance oily skin, moisturize dry skin and hair, and may even help with eczema and acne (1).
List of Topical Benefits of Hemp Seed Oil
Hair and skin moisturizing and protective
Adds a glow to the skin and a shine to the hair
Softens the skin and hair
Good for mature skin and fine lines or wrinkles
May help with a variety of skin irritations such as acne, eczema, redness, and more.
Anti-inflammatory and anti-itch benefits via gamma-linolenic acid (2)
What is Internal Stabilization (IS)?
Hemp seed oil has a short shelf life. However, IS Hemp oil is enhanced with natural plant-based antioxidants to improve lipid stability and extend shelf life to about 2 years.
A rosemary antioxidant is added to the hemp oil from the beginning of the expelling process to protect the valuable constituents of the hemp oil. Plus, this natural antioxidant offers valuable antimicrobial properties to reduce bacterial and fungal growth.
What are the benefits of using internally stabilized hemp seed oil vs regular hemp seed oil?
Extends the shelf life and reduce oxidation.
Provides antimicrobial properties and other benefits.
Helps prevent clumping and masses in product formulation / mixing.
Reduce the need to add antioxidants and antimicrobial agents to product formulations.
Note: There are no added aromas or flavors from the rosemary antioxidant.
In summary…
Hemp seed oil can be used in lotion, shampoo, conditioner, and even lip balm recipes. It is moisturizing and protective for most all skin and hair types. Aromaland's Internally stabilized hemp seed oil has a lengthened shelf life with antioxidant and antimicrobial benefits.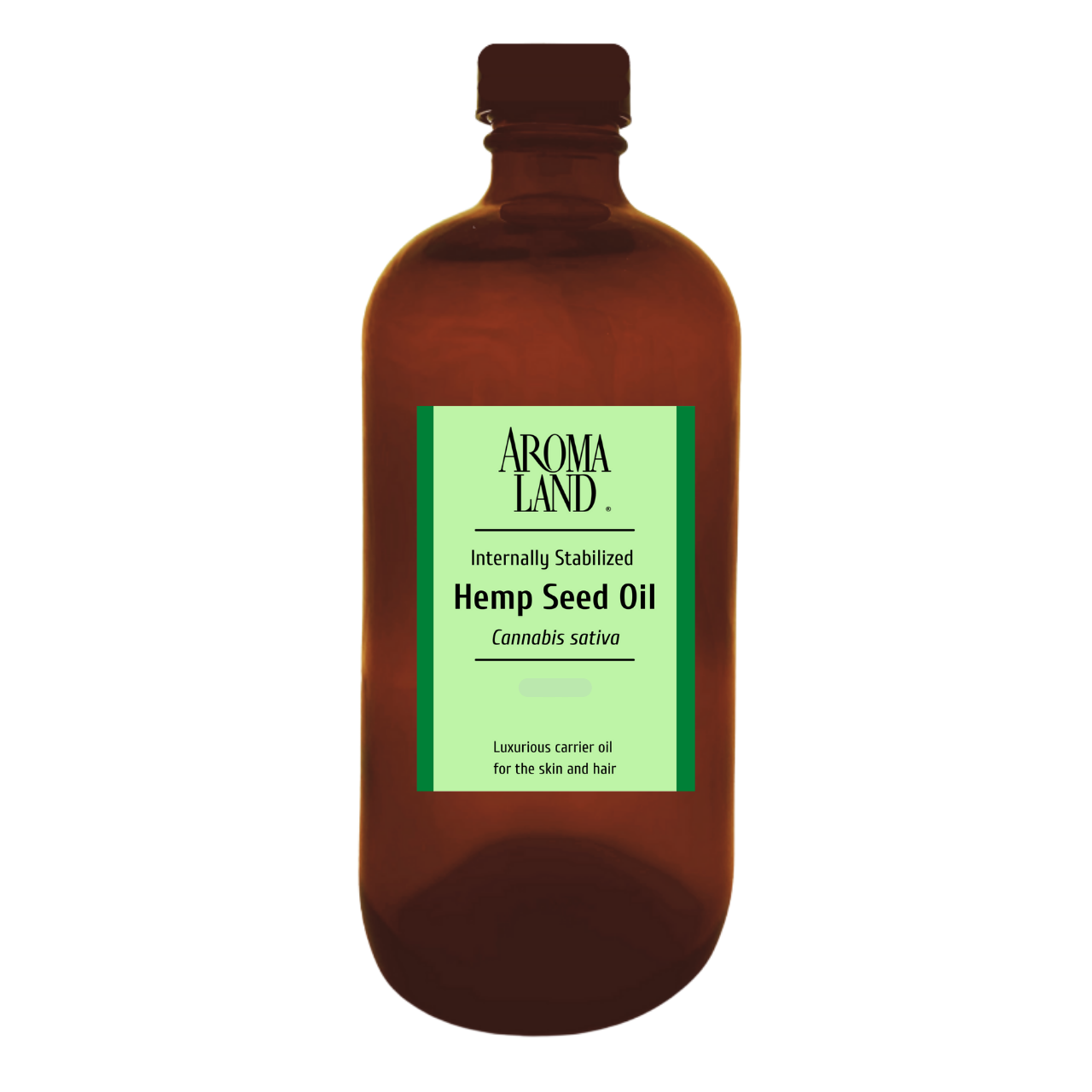 References
1. Ali, A. and Akhtar, N. (2015). The safety and efficacy of 3% Cannabis seed extract cream for reduction of human cheek skin sebum and erythema content. Pakistan Journal of Pharmaceutical Sciences, 28(4).
2. Chen, Y., Chiu, W., & Wu, M. (2006). Therapeutic effect of topical gamma-linolenic acid on refractory uremic pruritus. American journal of kidney diseases, 48(1), 69-76.