Posted by Kathy Sadowski on on Oct 29th 2021
When it's cold outside, spicy aromas can provide just the right ambiance to warm your home or workplace. Spicy essential oils can be used in blends for their aphrodisiac zing. Topically, they can warm up tissue, but should be heavily diluted.
Below is a snapshot summary with an aroma profile and possible uses for ten spicy essential oils.
Aromaland's spicy essential oils and blends are on sale during the week of November 1-7 for 15% off. Use the promo code: SPICY during check out.
Essential oils on sale include: allspice, bay, black pepper, cardamom, clove, cumin, fennel, ginger, nutmeg, celebrate blend, haromony blend, purifying blend, and revitalizing blend.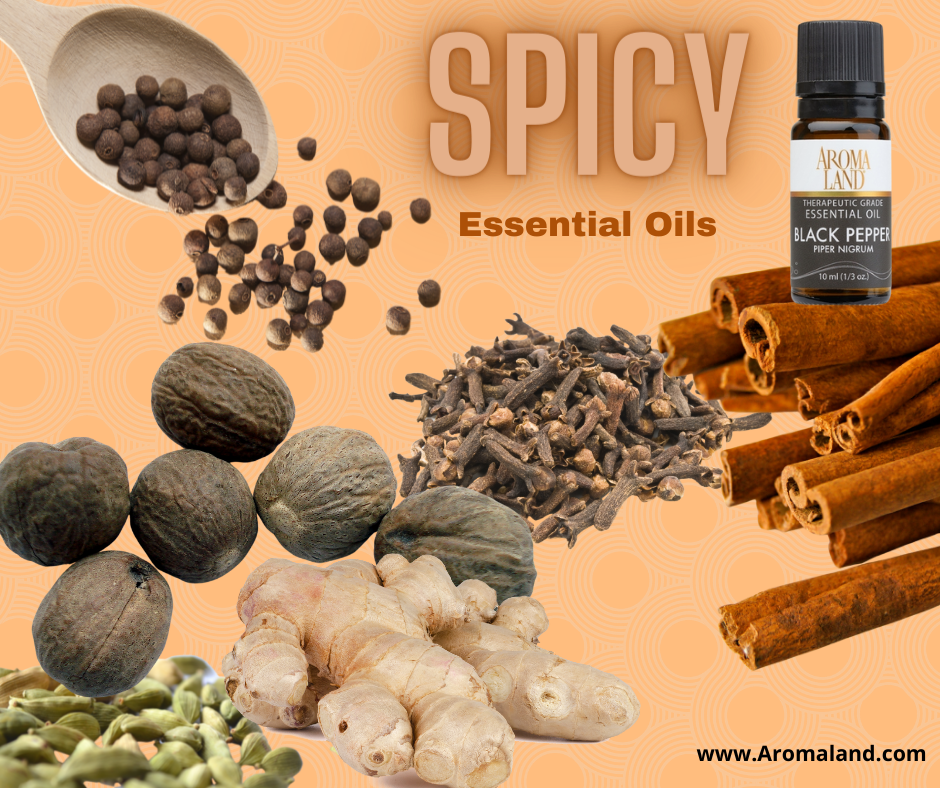 Allspice (Pimente dioica)
Aroma: Powerfully spicy, warm, and sweet
Description: This uplifting aroma can also be used topically (heavily diluted) to help warm up tissue and improve flow.
Blends Well With: This masculine note blends nicely with bay, petitgrain, cedarwood, ylang ylang, bergamot, frankincense, and cypress.
Bay Laurel (Laurus nobilis)
Aroma: Powerfully spicy, fresh, and green
Description: This stimulating scent can also be used to deodorize the air. Heavily diluted, it can be added to muscle rub recipes for a warming effect.
Blends Well With: Rosemary, sweet fennel, bergamot, clove, mandarin, and palmarosa
Black Pepper (Piper nigrum)
Aroma: Spicy, warm, and slightly woody. Surprisingly, this is one of the softer smelling spice essential oils.
Description: Black pepper offers an exciting yet subtle note to a perfumery blend. Topically, it is warm and soothing.
Blends Well With: Juniper berry, peppermint, rose, orange, jasimine, and chamomile
Cardamom (Elettaria cardamomum)
Aroma: Powerfully spicy and slightly sweet
Description: This uplifting aphrodisiac aroma encourages confidence and energy.
Blends Well With: Lemon, lemongrass, ginger, cedarwood, myrrh, and benzoin
Cinnamon Leaf (Cinnamomum zeylanicum)
Aroma: Potently spicy and sweet
Description: Cinnamon heats up the mood! Its strong scent can be added to a blend to help deodorize the air.
Blends Well With: Pine, vanilla, clementine, cypress, and spruce
Clove Bud (Eugenia caryophyllata)
Aroma: Strong, warm, spicy, and woody
Description: The scent of clove can add a complex spicy-warm note to an aroma blend. Topically, dilute it very heavily to help with muscle aches.
Blends Well With: Orange, cedarwood, bay, lemongrass, palmarosa, and eucalyptus
Cumin Seed (Cuminus cyminum)
Aroma: Pungent, warm, and spicy-green
Description: This very potent essential oil used in tiny amounts can add heat and complexity to an aroma blend.
Blends Well With: Peppermint, fennel, coriander, holy basil, or ginger
Fennel -Sweet (Fonneculum vulgare)
Aroma: Sweet, spicy, and licorice-like
Description: The aroma of fennel has been used to help with digestive complaints.
Blends Well With: Ginger, geranium, clary sage, anise, fir, and spearmint
Ginger Root (Zingiber officinalis)
Aroma: Zingy, warm, earthy, and sweet
Description: Ginger scent is grounding, warm, and exotic. It can be used to help with digestive upset.
Blends Well With: Lemon, jasmine, cardamom,
Nutmeg (Myristica fragrans)
Aroma: Sweet, spicy, and warm
Description: Nutmeg's aroma is potent and exotic. It should be used sparingly and blends nicely with florals, citrus, and woody notes.
Blends Well With: Jasmine, cedarwood, copaiba, frankincense, clary sage, vetiver, and lemongrass
Spicy Blends
Celebrate - This cheerful blend spreads joy in abundance. A rich, uplifting synergy that is so delicious and heart-warming, it will bring jolly good fun to the holidays! It smells like Christmas with the aromas of freshly cut evergreen branches and just-baked cookies.
Essential Oils of Orange, Cinnamon, Spruce, Patchouli, and Clove.
Harmony - This confident, spicy-green blend includes a hint of soft rose to add balance to your life. It harmoniously combines the elements of root, leaf, flower, and spice to encourage a high spirit.
Essential Oils of Clary Sage, Spikenard, Rose, and Cinnamon Leaf.
Purifying - Purify your purpose with a clear mind. This blend combines oils that have been used by healing professionals to help create an uplifting and nurturing environment. The freshness of citrus and eucalyptus blend harmoniously with the lively notes of cinnamon and thyme.
Essential Oils of Eucalyptus Globulus, Bergamot, Red Grapefruit, Cinnamon, and Thyme.
Revitalizing - Aroma can be rejuvenating, such as the scents of sunshiny citrus notes, stimulating spices, and lively herbs. This blend includes beloved and energizing oils to evoke feelings of happiness, bliss, and self-confidence.
Essential Oils of Rosemary, Lemongrass, Orange, Ginger Root, Red Grapefruit, Mandarin Orange and Cinnamon Leaf.
Note: Spice essential oils can be very potent. Avoid use around young children, pregnant women, and with certain medical conditions. Dilute heavily with topical use. Ask your doctor if you have any questions before use.
This information has not been evaluated by the Food and Drug Administration and is not intended to diagnose, treat, prevent, or cure a disease.